"Imagination is more important than knowledge but intuition is the most valuable thing on the universe and evolved soul can develop capacity to perceive the future with the help of cosmic technologies which are yet to be fully manifested."
A charismatic visionary, Professor M.C.SAXENA is a simple and humble, and possessed profound wisdom & nobility that has always stood the test of time. To him, it is people who matter as he embraces one and all with open arms. A living testimony of what an an eminent scientist, fuelled by the enterprise, and driven by determination can achieve on his own, Prof.M.C.Saxena is a philanthropist, and above all a great human being. In his more than 50 years of professional career has been recognized with various National and International awards in field of Science and Technology.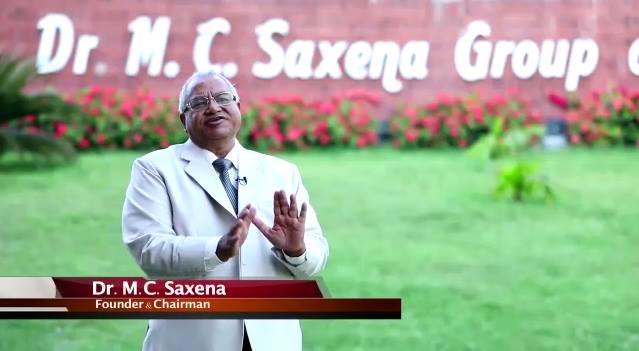 PROFESSOR DR. M.C.SAXENA (CHAIRMAN)
Various Awards Received By Prof. (Dr.) M.C.Saxena
"Distinguished Leadership Award of the century" by the American Biographical Society, North Carolina,U.S.A
MAN OF THE YEAR AWARD" for 2000 by ABI,U.S.A.
Top 100 Edupreneurs of the Country Award delivered by Hon'ble HRD Minister- Sri Sashi Tharoor.
"Shiksha Gaurav Samman"-U.P. Award Society,2012.
Rajiv Gandhi Shiromani Award-2010
Indira Gandhi Sadbhawna Award-2011
Leadership Award -2012
Rashtriya Vidya Saraswasti Puruskar-2012
Ramanujan Bhartiya Vigyan Puruskar-2012
About MCSGOC
Dr. M.C. Saxena Group of Colleges has been providing the quintessential platform since 2004 in imparting professional and technical skills of the required industry standard to enhance career opportunities in various industries.
Mission
To train and develop professionals in a positive , vibrant and healthy environment so that the idea can be converted into action and put man above machine.
Vision
To create dynamic and synergistic centre of excellence
empowering young minds to attain global competence
Strength
Commitment, Sincerity & Dedication
The college was established and is run by an eminent scientist Dr.M.C.Saxena with distinguished and scientific dispensations of world class. Since last 16 years is dedicated towards imparting world class Professional & Technical Education. Since 2004, institution after institution was added and facilities kept improving to ensure MCSGOC emerges to a leading higher education provider in the state with 5 professional institutions of Medicine , Pharmacy, Engineering, Education and Management spread over 30+ Acres of lush green campus. The group is home to 5000+ students pursuing under graduate and post graduate programs in diverse subjects. The group has a strong Alumni network of around 4000+members
MCSGOC is very proud of its academic resources. We are the only educational institution of North India to have alumni of IIMs & IITs as faculty members. The faculty is not just well-qualified but also brings considerable experience across both private & public sectors to the table
Dr. M.C Saxena Group of Colleges is one of the best colleges in Lucknow, affiliated to AKTU/ Lucknow University and is also AICTE- approved.
Our growth, fueled by the students, gives us the tools and room to develop more revolutionary technologies that are already changing the world around us. We continue to equip our students with the capacity to perform in a fast-changing and increasingly global economy.
Spread across more than 30 acres, the Institute lies within the city limits of Lucknow and can proudly boast of having state-of-the-art infrastructure with multiple buildings and a 24-hour fully operational hospital. The college buildings are specially designed to focus on various aspects of engineering and management, housing five distinct departments, well- equipped laboratories, lecture halls, tutorial rooms and chambers for faculty.
The campus also offers housing facilities for outstation students including separate hostels for boys and girls hostels along with a centrally air-conditioned canteen.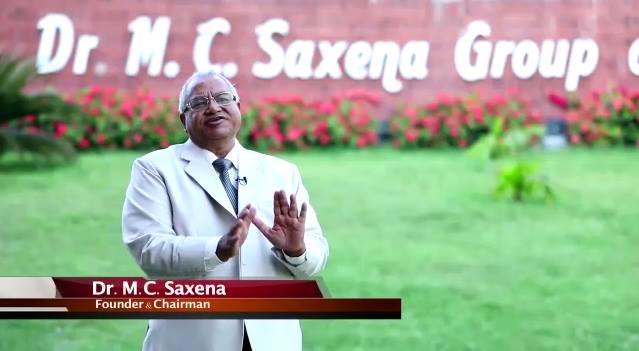 Professor (Dr.) M.C.Saxena Chairman
Engineering & Technology is the backbone of a country on which prosperity, economy, security & overall growth is dependent. The charm of technical education is galored when technology driven projects are assigned. The swift change in the society towards the adoption of new technologies vis-a-vis support driven services have occupied the spaces lying vacant for ages. Mobile technologies have energised economics of countries like Finland & Cuba has the distinction on bio-technologoies. The second largest human resource of India in post secondary education can bring wonders to the nation if their technical skils are developed through engineering & pharmacy education to meet the global standards in technological world.
We at MCSGOC have seriously attempted to contemplate incredible infrastructure to provide the innovative exposure in engineering & pharmacy field through innovative ideas & advance tools like robotics & virtual labs. The impact of these value additions carried out suo motto beyond the university syllabus is obvious that our engineering graduates do not find difficulty in getting placed in the industry-off course wit limited choice. At a time when placement scenario of the colleges is not very bright, this is not true with MCSGOC alumni. The infusion of young alumini from IIM has developed fresh enthusiasm in the innovative delivery of technical education on a scale of 360 degree and MCSGOC shall continue to strive hard to sustain its leadership in technical education in Uttar Pradesh. I am a firm believer that original thinking can not be the monopoly of education system. India host the world's second largest post secondary population and has great potential to embark on quality in undergraduate courses in engineering & technical education. This is possible through e-learning and virtual labs. Each department has been galvanised to have at least one virtual lab to provide the desired exposure to our students and help in shaping their career on the best possible technological environment.
Lucknow, Uttar Pradesh 226003
05223395700
http://mcsgoc.com/